GETTING STARTED
GET TESTED FOR COVID-19
STEP 1
COMPLETE THE SURVEY

To understand and to gather your information, we will need you to complete the survey first.
 
STEP 2
SCHEDULE AN APPOINTMENT

Call the scheduling line at 734.539.5111
Monday - Friday 8:00AM - 5:00PM
Appointment Slots
Monday - Wednesday, Friday: 8:00AM - 6:00PM
Thursday: 8:00AM - 4:00PM
Saturday: 8:00AM - 12:00PM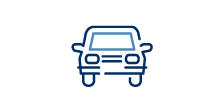 STEP 3
GO TO YOUR APPOINTMENT

On the day of your appointment, you will need to go to:
KMS Building
700 Kms Place
Ann Arbor, MI 48108
NEED HELP?
CALL US ANYTIME.
734.539.5111
COVID-19 SELF-COLLECTION
MID-TURBINATE

In this video, experts from Michigan Medicine's MLabs team demonstrate how to appropriately self-collect a COVID-19 specimen using the mid-turbinate method.
 
QUESTIONS & ANSWERS
COVID-19 RELATED
Appointment

Do I have to have an order from a physician to have a test performed?

No, you can schedule an appointment as a self-referral.

Where is the COVID-19 Testing location?

The COVID-19 Drive Through specimen collection site is located: 

KMS Building, 700 Kms Place, Ann Arbor, MI 48108

.

What can I expect when I arrive?

When you arrive to the location a sign will instruct you to contact the collection personnel to confirm your appointment and open the doors at the collection site for you to drive your car into the building. Please wear a mask and turn your car off once you are parked inside the building.

Do I need to bring my photo ID?

No, all you need to bring is a mask for all individuals within the vehicle over 2 years of age and a cell phone.

Are there options for children who are anxious about having the test performed?

Yes, our collection personnel will work with you and your child to find a comfortable position and explain the process prior to collection. The child can also sit on your lap for a comfort hold position. 

I am a Michigan Medicine patient and I have a procedure scheduled at Michigan Medicine. Are you able to schedule an appointment for me?

No, please contact the Michigan Medicine COVID-19 Hotline 734.763.6336.

Can you help me schedule an appointment at one of the Michigan Medicine Drive Through Testing locations?

No, If you are a symptomatic or pre-procedural Michigan Medicine Patient or Michigan Medicine employee with an exposure please contact the Michigan Medicine COVID-19 Hotline 734.763.6336 to get scheduled at a Michigan Medicine location.

If you are an asymptomatic Michigan Medicine patient, or interested in a self-referral for testing please contact the COVID-19 scheduling line 734.539.5111.

 
Results

When will I get my results?

Within 24-48 hours. If you are traveling, we recommend scheduling your appointment 72 hours prior to your flight or travel time.

How do I get my results?
Your results will be uploaded into the Patient Portal. After our Billing Department contacts you to register, you will receive an email with a link to sign up for the patient portal. Complete this step right away so your portal is active. If you already have a Michigan Medicine Patient Portal, your results will automatically upload into the Portal. If you need assistance with your Portal, or viewing results for minors please contact the Patient Portal Help Desk 734.615.0872 for assistance.

I had my test performed but I still have not received my results, are you able to send them to me?
If you've activated your portal, and for some reason, you still can't see your results, please fill out the release of information form. Once it's filled out, it can be emailed to MichiganMedicineLaboratories@med.umich.edu. Once you've emailed it, you can call us, and ask us to send you the report.

 
Specimen Collection

How is the specimen collected?

The collection performed is a Nasopharyngeal collection or a Mid-Turbinate self-collection.

What is a nasopharyngeal collection?

A flexible sterile swab is placed into the back of the patient's sinuses and throat through their nasal pathway and rotated several times to collect cells and mucus. The collection swab is then placed into a vial containing transport media and taken to the laboratory for testing. If you are a pre-procedural patient a Nasopharyngeal collection must be performed.

What is a Mid-Turbinate self-collection?
A Mid-Turbinate collection is an observed swab collection that the patient performs on themselves. This type of collection is less invasive compared to the Nasopharyngeal collection. For more information, watch the Mid-Turbinate Self-Collection Video.

 
Insurance/Cost

Will my insurance cover the cost of the test?

We recommend contacting your insurance provider to determine if the test is covered.

How much does the test cost?

$290.00

What if I don't have insurance?

The test will be free of change. However, our billing department still needs to speak with you to register you for the appointment.



 
General

Is the test you offer a RT-PCR test?

Yes

I have been exposed to COVID-19, when should I get tested?

Signs and symptoms may appear any time from 2 to 14 days after exposure to the virus. Based on preliminary data, the median incubation period is approximately 5 days but may range 2-14 days. It is recommended to have the test performed within 5-7 days after exposure.



 
TAKE IT WITH YOU
DOWNLOAD THE BROCHURE

This brochure covers details for patients and individuals  wanting to learn about the process of getting tested for COVID-19.